Good evening! My name is Bill Neville and I'm the producer and co-host of the New Age Insiders Wrestling Show. Tonight, we're trying something new, where either myself, Jason Moltov, or Liam Stryker will be recapping RAW and giving comments live! All you have to do is refresh the page.
All photos used are property of World Wrestling Entertainment, from Twitter.com/WWE.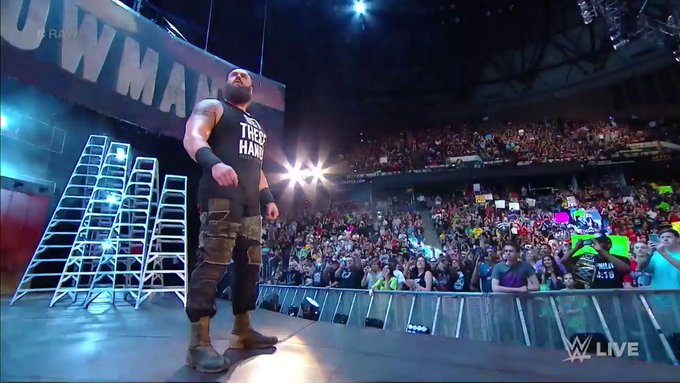 RAW kicks off with the Monster Among Men, Braun Strowman, explaining how he will have ZERO problem getting through the 7 other men in the Money In The Bank Ladder Match, naming every competitor. Out comes Finn Balor to boast about his effort last week. Braun exclaims that Finn did put up a good fight, "for a little man." Finn gives him a good irish smack, and Braun gives him a good old monster toss.
Author's Thoughts: This segment was great. The more Braun Strowman is able to talk on the mic, the better his year is going to be. So intimidating. Also makes Finn look good by getting props from Strowman for putting up a fight. MITB is going to be special, with guys about 200 pound difference in weight attempting to climb the ladder towards immortality.
MATCH ONE: FINN BALOR VS BRAUN STROWMAN
Any time we see Braun Strowman in a match where it isn't a straight up squash, is a bonus for the fans. This guy can really go for a larger than life person. Kevin Owens gets on the mic from commentary calling Braun out for not being the Monster. Later in the match, Owens gets back on mic from commentary with a pep talk for Balor, who then hits a few big maneuvers.
Balor picks up major momentum, hits a slingblade and a Coup De Gras, and in order to take the Monster out, goes up for a 2nd Coup De Gras, and there's Kevin Owens to interrupt the match. Braun is enraged, grabs one of the ladders at ringside, and Strowman soccer throws a ladder halfway up the ramp, FROM THE RING.
Author's Thoughts: I absolutely LOVE this Kevin Owens. First of all, without Sami Zayn by his side. Second, OUTSPOKEN Kevin Owens is the best KO. He had no business interfering in the opening contest by getting on the microphone in the arena, but there are few talkers, if any, better than KO in the entire company. This was a fantastic segment for the three involved, Strowman, Balor, Owens. They look like the top three favorites thus far in the ladder match, with a few weeks remaining in the build to Money In The Bank.
Announced upcoming: Seth Rollins vs. Jinder Mahal, Women's Gauntlet Match
BACKSTAGE SEGMENT: Kevin Owens is seen running backstage and screaming at a valet to go get a car that doesn't belong to him, so he can take off for the night. Kurt Angle stops him, and informs him he'll have a match with Bobby Roode later tonight.
Time to WALK WITH ELIAS. Perfect douchebaggery, asking for the lighting to be changed, and his vocals turned up, because tonight's Virginia crowd is much harder to look at than normal. Typical back and forth about the crowd being quiet, and they get louder. Strowman segment comes to an end yelling that he's just going to leave because they won't be quiet. Up next, Seth Rollins defends the IC title against Jinder Mahal.
Juuuuuust when you think Elias has taken off, he's still sitting there when we return from break, and how nice of him, going to give Virginia another chance… but nope. Out comes Intercontinental Champion Seth Rollins with the new red BURN IT DOWN gear.
Good solid matchup between Rollins and Jinder. Might be the best since Jinder's comeback. The match ends however with Rollins hitting home runs with a steel chair. The commentary team portrays the finish as pure emotion, as Rollins celebrates on the commentary table, and WHACK. Elias cracks Rollins with his guitar, and Rollins tumbles to the floor.
WHERE did @IAmEliasWWE just come from?! #RAW pic.twitter.com/qV6WpzXG3j

— WWE (@WWE) May 29, 2018
Author's Thoughts: Seth Rollins is easily the best thing WWE has going right now, and proves it again and again. This was likely the best match since returning to the company almost two years ago. I love the Elias takedown at the finale of the segment. This could, in an ideal world, set up Elias vs. Rollins at Money In The Bank, with Elias getting the win, possibly setting up Rollins/Brock at SummerSlam!
Nia Jax squashes local talent in the ring, with Ronda Rousey on commentary. Ronda heads to the ring to confront Nia Jax, with a talking confrontation. Nia disappears, showing she's not afraid of the baddest woman on the planet.
Out of nowhere, Matt Hardy and Bray Wyatt, the current Tag Team Champions, will battle The Ascension. It's a real shame these guys have done next to nothing since ascending to the main roster from NXT. Decent back and forth match, but a classic 'not quite' battle for the Ascension.
Bobby Roode vs. Kevin Owens is up next. Was a solid match with action spilling outside the ring, and Owens showing off his incredible somersault cannonball, smashing Roode into the barricade. Roode hits a GLORIOUS looking Blockbuster from the top rope. Owens gets the victory, and escapes, but is quickly haunted back to the ring by the music of Braun Strowman, who proceeds to decimate Roode and Owens.
Now you know, @REALBobbyRoode…

There are NO FRIENDS heading into the #MITB #LadderMatch! #RAW @BraunStrowman @FightOwensFight pic.twitter.com/TlGIsQE6I2

— WWE (@WWE) May 29, 2018
Sami Zayn is out to "clear the air" with the "controversy" last Monday over the Lashley Sisters segment, and pokes fun at all the insane conversations happening online about it. Out comes Lashley to confront Sami Zayn. Lashley challenges Sami to a match at Money In The Bank. Lashley gets the upper hand, literally, as Zayn crumbles to the ground from a wristlock from Lashley.
Author's Thoughts: I want Lashley to succeed, but he doesn't seem to connecting well with the crowd. He's a below-average talker, with below average music. It's hard to make an impact that way. I'm sure the match will be very solid, but Lashley has some more work to do to revive a career, that truthfully never really was, in WWE.
Drew McIntyre (with Dolph Ziggler) vs. Chad Gable
This weird hodge-podge team of Ziggler/McIntyre is oddly intriguing. Would be fun to see them go after the tag titles in the near future. Solid, physical match between Drew and Gable. Would love to see Jordan and Gable become a thing again, putting Jordan back into a non-incredibly lame storyline as GM Kurt Angle's kid. McIntyre with the powerful victory.
Up next, the B-TEAM BBQ with the RAW Tag Team division!
JUST WATCH:
FOOOOOOOODDDDDDD FIIIIIIIGHT!!!!!!!!! 🍔🍖🥓🥪🍗🥔#RAW pic.twitter.com/N5zQw4tvBE

— WWE (@WWE) May 29, 2018
It's time for the 7 Women Gauntlet match for the final 8th spot in the MITB Ladder Match in 3 weeks! Bayley is out first to chat with Charly Caruso. So Bayley will have to get through 6 other superstars to get that last spot!
Elimination 1: Bayley defeats Liv Morgan in 1.3 seconds, Sarah Logan out next.
Elimination 2: Bayley defeats Sarah Logan in about 2 minutes, Ruby Riott out next.
Elimination 3: Ruby Riott eliminates Bayley, Dana Brooke out next.
Elimination 4: Ruby Riott eliminates Dana Brooke, Mickie James out next.
Elimination 5: Ruby Riott eliminates Mickie James, Sasha Banks final entrant.
Elimination 6: Sasha Banks eliminates Ruby Riott. Sasha Banks qualifies for the Women's Money In The Bank Ladder Match.
Solid 2nd half of the match after the joke eliminations were completed. Morgan and Logan lasted a combined 3 minutes in a gauntlet match that started at 10:40 PM. No shock there. Everyone had moments, and the final battle between Banks and Riott was pretty good.
Thanks for reading, hope you enjoyed, and if you missed RAW, and this helped you get caught up, glad I could help! Hit me at @BillNevilleNAI on Twitter, and let me know what you think! Goodnight.